Benefits
Swimming pool activities provide fun, great exercise opportunities and health benefits for the whole family, especially for those with children.
A heating swimming pool will extend your swimming season up to six months or all year round for indoor pool. Using swimming pool heat pumps as pool heaters is the cheapest and the most energy efficient method of and will substantially reduce your pool running costs.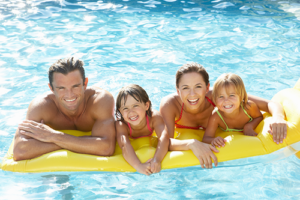 We offer free consulting service to suit your need! With our imported pool heat pumps, we provide full installation and technical support service such as pump maintenance.
We believe that there are many benefits of having heated swimming pools:
happier and healthier families' times;
kids have less time with electronics;
socializing with your family and friends at any time of the day;
and longer swimming season to maintain fitness and relieve stress.
Features
Modern reliable design: All black plastic shell case fit your gardens view perfectly

Multi types: From 7.0KW to 25KW heating capacity, combination of multi units is the best way for commercial use

Quiet: Even quieter than circulation pump

Efficient: Extract the heat energy from circumjacent air, it consumes 1kW to produce about 5kW heat energy

Environment friendly: It uses environment friendly refrigerant R410

Economy: Energy saving rate is close to 80%

Easy to install and operate

Reliable and durable: plastic shell case, top quality compressor and heat exchanger
Specification (Vertical Models)
Appearance

Model

Heating Capacity (KW)

Suitable Pool Size (m^3)

KS120 (1 Phase)
12.0
30-45
KS150 (1 Phase)
14.5
45-60
KS200s (1 Phase)
19.5
60-75
KS200 (3 Phase)
19.5
60-75
KS250 (3 Phase)
24.3
75-90
Specification (Horizontal Models)
Appearance

Model

Heating Capacity (KW)

Suitable Pool Size (m^3)

KS70 (1 Phase)
7.0
<15
KS90 (1 Phase)
9.0
15-30